Welcome to Southwest Florida, fishing the Islands of Sanibel, Captiva and Boca Grande. Winds are up and out of the North fishing for Snook, Trout, Jacks, Spanish Mackerel were hot. The waters are a cool 75 degrees in the back country and the morning have a cool nip in the air.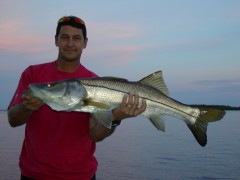 On low tides look for Trout in potholes or drop offs from the grass flats. Jacks, Spanish Mackerel, Ladyfish will be where the current is strong. Look for birds diving and busts in the water and you'll find lots of action. We're catching Snook in passes and around bridges in high current areas.
Get out on the water, fish a little and always remember that "it's great being us"!
Tight lines,
Capt. Blake
<