Fishing the Flats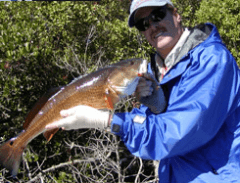 Pine Island Sound lies between Fort Myers and the barrier islands of Sanibel, Captiva, North Captiva, Cayo Costa, and Boca Grande. Thousands of acres of grass flats provide habitat and hiding places for dozens of species of gamefish. Spring and early summer find tarpon moving through the area on their way north to spawn. Redfish, snook, jacks, and ladyfish haunt the flats throughout the year (although the summer and fall are the best times to find tailing reds). The quiet approach afforded by Captain Blake's flats boat lets you sneak right up to feeding fish. Few things match the thrill of sight-fishing to a tailing redfish, lurking snook, or holed-up seatrout.
Mangroves and Channels
On both the east and west sides of Pine Island Sound, mangrove islands and channels hold reds, snook, jacks, and other fish. A careful approach and accurate casting frequently pay off in strikes. Of course, you're then faced with the task of fighting a fish that's already halfway into the entangling mangrove roots! This fishing is not for the faint of heart.
Fly Fishing
The flats of Pine Island Sound are tailor-made for fly fishers. With water depths averaging 18 to 24 inches, there is plenty of productive sight-fishing. Lightly weighted Clousers, Hart Ghost Minnows, and Simple Shiners rarely fail to draw a strike when presented properly. Typical casting distances are 50 feet or less, making this fishing accessible to most fly fishers. An 8-weight outfit with a floating line and a disc-drag reel will easily handle even the biggest reds or snook.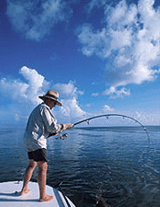 During May and June, tarpon move through the Ft. Myers area on their way north to spawn. These fish can sometimes be found lolling on the flats, but most anglers concentrate on the big daisy-chaining schools of tarpon moving along the Gulf-side beaches. If you want a shot at hooking one of these fish on a fly, the waters off Sanibel, Captiva, and on up to Boca Grande offer the best opportunity anywhere in Florida. This is also a sight-fishing adventure, and the minimum rig with which to tackle tarpon is a 12-weight rod with an intermediate line.
Light Tackle Fishing
Don't fly fish? Conventional light tackle is also quite effective for catching the gamefish that swim around Fort Myers. Topwater plugs such as those offered by Rapala, Yozuri, and Rebel can be devastating on the flats. Jigs such as the DOA Terror-Eyes account for more than their fair share of big snook and reds in deeper water. This, too, is mostly sight-fishing. Accurate casting is more important that distance casting.