Fishing Charters in Fort Myers and Sanibel this past week have been pretty good. The Snook bite has turned on and the Redfish have continued to be good. Some nice size Trout have found their way to DOA shrimp lures and Air Heads also.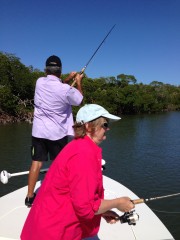 Friends and fishermen, Stephen and his lovely wife Diane were down from Massachusetts visiting their home in Florida (can't fool me, I saw the weather back in Mass.) and called again for some sunshine and fishing, or in Diane's case catching. Boy does she have the lucky hand (she calls it skill but Stephen and I call it luck).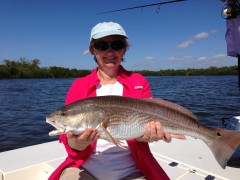 We found some hungry fish and did they eat. Naturally the fish found Diane's line first and just about on every cast. Stephan and I just moaned every time we heard her reel screaming as the line was peeling off the drag. The Jack Crevalle were especially hungry and we hooked some nice 8 to 12 pound ones.
The boys did make an appearance when Stephen got the last revenge as he hooked and masterfully guided a 34″ Snook out of the mangroves boatside for all to witness and proudly captured in some "grip and grin" photos.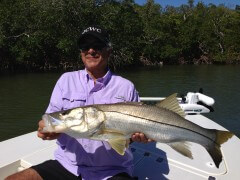 We had a blast and even got some redfish to cooperate to round out the day. It was great seeing and fishing with the Bernardi's again and look forward to our next adventure in the backcountry. Great memories to dream about while back in Mass. Until next time my friends!
Get out on the water, take a kid fishing and always remember that "it's great being us"!
Capt Blake
<*(((><
Captain Blake Matherly is a full time Spin and Fly Fishing guide. Captain Blake holds a United States Coast Guard 50 Ton Master Captain's License. Your Captain is fully insured and supplies a Florida Fishing License for all clients. He is a member of numerous Pro Guide programs including, Simms, Sage, Temple Fork, DOA Fishing Lures, Hatch Fly Reels, Power Pole, Penn, Calusa Cast Nets, Patagonia, and Columbia.