The saltwater flats fishing around Fort Myers and Sanibel Florida are pretty good for those that work hard and get out often. The water temperature changes rapidly due to the longer nights and cooler nighttime temps. Redfish and Trout like the cooler water but Snook are like me (love it warm).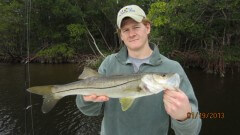 Randy Love took nephew Walter Elder (Kansas State student) out for a day on the flats aboard the 18' Egret Flats Boat. Randy's from Wichita Kansas and is spending the winter in Fort Myers renewing his relationship with his High School Prom date. How cool is that!
The day started with us fishing a creek in the mouth of the river. Walter started with his first Snook ever. What a great fight! Pucker up Walter! Later Randy, not to be shown up, started with the Redfish. By the end of the tide flow, we caught several Snook, several Redfish, a flounder and a jack. By the way, Randy caught all the reds and Walter caught all the Snook. Go figure.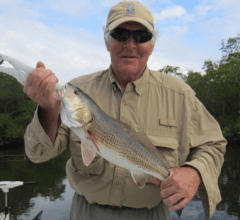 We moved up the river to a couple of other creeks and the bite slowed dramatically. We fished the docks, the mangroves and the fish must have been taking a mid morning rest.
Together we came up with the next plan of attack and it was to move in some canals and look for some large jacks. Payday! After a few chummers and the right anglers at the front of the boat, we started to pull in one after another. Both guys caught many fish but Walter was the one on the last cast that came up with the big boy. A 12 pounder!
What a great day with some new friends. I really enjoyed the day with two gentlemen and great fishermen. Study hard Walter and come back to see your Uncle soon!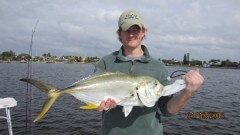 Get out on the water, take a kid fishing and always remember that "it's great being us"!
Capt Blake <*(((><
Captain Blake Matherly is a full time Spin and Fly Fishing guide. Captain Blake holds a United States Coast Guard 50 Ton Master Captain's License. Your Captain is fully insured and supplies a Florida Fishing License for all clients. He is a member of numerous Pro Guide programs including, Simms, Sage, Temple Fork, DOA Fishing Lures, Hatch Fly Reels, Power Pole, Penn, Calusa Cast Nets, Patagonia, and Columbia.