If fishing the flats in Florida is your gig, then come to Fort Myers or Sanibel and enjoy the weather and the fishing. Chris Weaver, from the DC area did just that.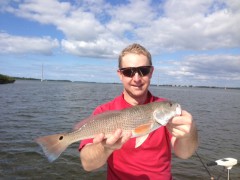 Chris visited Fort Myers first to be in a baseball tournament (in which his team won) but quickly became a big fan of the great fishing we have to offer. To start off the weather was great! The fishing started off a little slow. The first number of fish never seemed real interested in the bait. Fish after fish were missed but we didn't let that stop us.
Chris being a great caster really helped in getting the lures in the strike zone. Finally we started to get multiple fish to the boat. Redfish, trout and other species were on the list at the end of the day.
Special thanks to my new fishing friend from the North. I'm looking forward to seeing you again!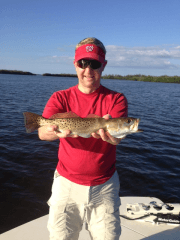 Get out on the water, take a kid fishing and always remember that "it's great being us"!
Capt. Blake <*(((><
Captain Blake Matherly is a full time Spin and Fly Fishing guide. Captain Blake holds a United States Coast Guard 50 Ton Master Captain's License. Your Captain is fully insured and supplies a Florida Fishing License for all clients. He is a member of numerous Pro Guide programs including, Simms, Sage, Temple Fork, DOA Fishing Lures, Hatch Fly Reels, Power Pole, Penn, Calusa Cast Nets, Patagonia, and Columbia.