Charter fishing in the Sanibel and Fort Myers Florida area has picked up even with some days of low temperature. Knowing where and when to go is the key to success. Watching the water temp and the tides is equally important to figure out what species you want to target. Redfish and Spotted Sea Trout are our target fish during this time of year.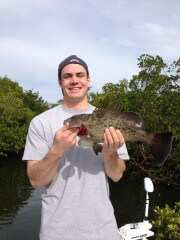 Some days during the winter the days even seem to be summer like in the temperature and in the way the fishing is. Those days are appreciated in the comfort and the amount and kind of fish reeled to the boat.
Sometimes the fishing is so good you may even need a little help from a friend. During one trip out with a great friend we had a little mishap in casting. As soon as the bait hit the water (on the other side of the tree) a Grouper hit the bait and the tug of war between the fish/tree/and boat was on. Seeing men in distress, a bold and brave maiden came to our rescue to rescue the line from the tree so the landing of the fish was possible. Our thanks to the maiden on the paddle board for helping the helpless men in distress and for making our day!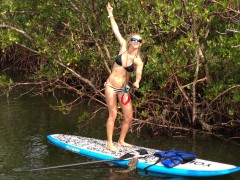 It was another great day on the water, many fish, great friends and a merry maiden (maybe Mermaiden)!
Get out on the water, take a kid fishing and always remember that "it's great being us"!
Capt Blake  <*(((><
Captain Blake Matherly is a full time Spin and Fly Fishing guide. Captain Blake holds a United States Coast Guard 50 Ton Master Captain's License. Your Captain is fully insured and supplies a Florida Fishing License for all clients. He is a member of numerous Pro Guide programs including, Simms, Sage, Temple Fork, DOA Fishing Lures, Hatch Fly Reels, Power Pole, Penn, Calusa Cast Nets, Patagonia, and Columbia.