The fishing report this week for fishing charters in Sanibel and fishing charters in Fort Myers is as follows. The weather pattern is pretty much what we expect for this time of year and the fishing has actually been pretty good.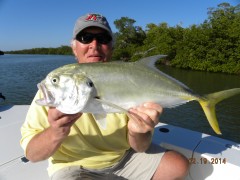 Charters this week have been pretty good and as always it was great to see my friend Randy Love on the Egret again. Randy just got back from Mexico and brought his friend Michael along for the journey. Last time we tried getting Michael out a big front came in and blew us off the water. This time was our time to shine.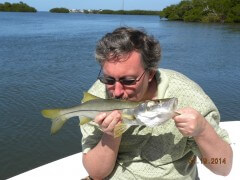 It started out a little slow but after a little patience and warming of the water temperature the bite started. At first we got into some pretty nice Jack's. Pound for pound these guys are the toughest guys out there. What crowd pleasers they are. I give them a AAA+ rating on the attack of the bait or lure, and on the fight that comes after the attack.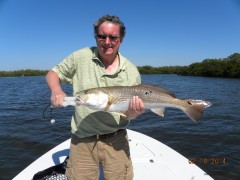 We moved to see if we could get Michael his first Snook and Redfish (you always have to kiss your first Snook on my boat). It took a little longer and was a little tougher but we did finally tricked some nice fish into playing with us for a while.
What a great day out with old friends and great fisherman.
Get out on the water, take a kid fishing and always remember that "it's great being us"!
Capt Blake
<*(((><
Captain Blake Matherly is a full time Spin and Fly Fishing guide. Captain Blake holds a United States Coast Guard 50 Ton Master Captain's License. Your Captain is fully insured and supplies a Florida Fishing License for all clients. He is a member of numerous Pro Guide programs including, Simms, Sage, Temple Fork, DOA Fishing Lures, Hatch Fly Reels, Power Pole, Penn, Calusa Cast Nets, Patagonia, and Columbia.