Charter Fishing in the Fort Myers and Sanibel Island area this week has been great. The weather finally broke, the days were sunny, warm and the winds were calm. Man did we need this to happen. The water temp warmed up and the frozen, shivering fish woke up and were hungry.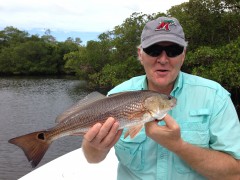 We caught and heard of some really nice size Spotted Sea Trout attacking topwater lures and DOA shrimp over the grassflats. Pot holes were also a proven spot to find the Trout but it seemed that the pot holes had most of the smaller ones.
Redfish were attacking many versions of what they thought were snicker bars but turned out to have an angler attached. Again we used topwater and soft bait lures to entice the drums to march our way.
Early morning sunrises were spectacular and the evening sunsets were just as nice.
Get out on the water, take a kid fishing and always remember that "it's great being us"!
Capt Blake <*(((><
Captain Blake Matherly is a full time Spin and Fly Fishing guide. Captain Blake holds a United States Coast Guard 50 Ton Master Captain's License. Your Captain is fully insured and supplies a Florida Fishing License for all clients. He is a member of numerous Pro Guide programs including, Simms, Sage, Temple Fork, DOA Fishing Lures, Hatch Fly Reels, Power Pole, Penn, Calusa Cast Nets, Patagonia, and Columbia.