Well, we decided to go out and test the fishing around the islands of Sanibel and Fort Myers today for some saltwater back country Snook and Redfish.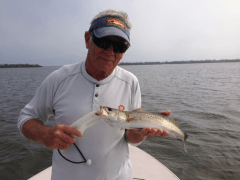 Even though the winds were up, front coming through the area, we braved the 2-4 white caps to get to the back country fishing grounds and found some creeks that produced what we came for. Gary Barnett was my point man today on the bow and I was manning the push pole on the platform. Gary, his wife and son, is currently living in the Guangdong Province of China, but is looking to move back to the States (I think we got him hooked today in the back country to move to Southwest Florida).
The first fish was a very nice Spotted Sea Trout (released with no picture). Then the Redfish fell prey to the artificial lure. Next came the Jack Crevalle. Multiple fish were added to the count before we both became victims to the urge and need for food. The Green Flash won the vote and a nice lunch ended the day. A short bumpy ride back to the ramp had us both being glad we decided to make the trip today.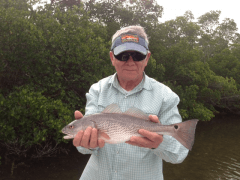 Thanks Gary for the great day fishing and the company!
Get out on the water, take a kid fishing and always remember that "it's great being us"!
Capt Blake <*(((><
Captain Blake Matherly is a full time Spin and Fly Fishing guide. Captain Blake holds a United States Coast Guard 50 Ton Master Captain's License. Your Captain is fully insured and supplies a Florida Fishing License for all clients. He is a member of numerous Pro Guide programs including, Simms, Sage, Temple Fork, DOA Fishing Lures, Hatch Fly Reels, Power Pole, Penn, Calusa Cast Nets, Patagonia, and Columbia.