This week fishing the saltwater flats around Sanibel, Fort Myers Beach and Pine Island Sound have been pretty good for this time of year. Whether you're going spin fishing or fly fishing the red fish and spotted sea trout have been biting a multitude of bait patterns.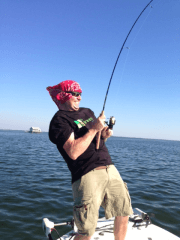 I was out with my friend Joe "Mad Man" Maddalone from Boulder Colorado. He's a fishing nut like the rest of us and came for a short visit to see what's biting in the back country.
The fishing started out a little slow but we managed to get a number of Spotted Sea Trout to the boat but none were the big ones I hoped for. We tried a couple of other spots looking for Red Fish but they were not cooperative as days before.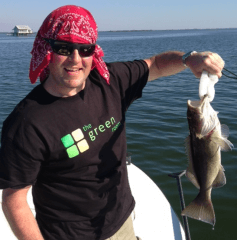 I decided we'd move to a spot that has been producing some small Grouper, but with ultra light rods, THEY'RE A BLAST! It was slow to start because the tide was moving slow but they finally took the bait. After a number of break offs Joe finally started bringing a number of the smart ones to the boat for the famous "grip and grin" photo op.
After a few more we both decided to try another spot and we're glad we did. Snook was the main topic for the afternoon. Joe had a blast catching Snook under the mangroves. It was difficult getting the smart line-siders to come out for a "snicker bar" but we did manage to get some to take the bait (along with a number of pesky Jacks).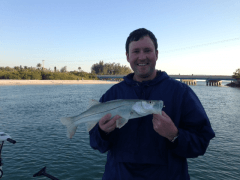 Thanks Joe for visiting us and getting me out on the water. Safe travels back home and come back to see us soon!
Get out on the water, take a kid fishing and always remember that "it's great being us"!
Capt Blake <*(((><
Captain Blake Matherly is a full time Spin and Fly Fishing guide. Captain Blake holds a United States Coast Guard 50 Ton Master Captain's License. Your Captain is fully insured and supplies a Florida Fishing License for all clients. He is a member of numerous Pro Guide programs including, Simms, Sage, Temple Fork, DOA Fishing Lures, Hatch Fly Reels, Power Pole, Penn, Calusa Cast Nets, Patagonia, and Columbia.