The Fort Myers, Sanibel flats fishing report this week is a mixed bag of Spotted Sea Trout, Snook, Redfish and Grouper. Charter Fishing Guides are working hard to please and work around the changing weather and water temperatures.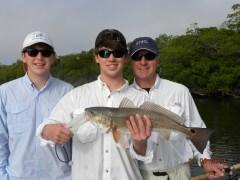 Our featured group is the Lee family from Montgomery Alabama. Shon (father) brought his two sons, Major (Sophomore at Alabama) and Marshal (High School Senior) in town for a day of back country fishing before moving on the Miami for the National Championship game Monday night with Alabama against Notre Dame.
The day started out like gang busters with Marshall catching his first Snook (pucker up for a kiss), followed by Major's first Redfish and Marshall also catching a big Redfish. A Jack, Mangrove Snapper followed and the bite shut down. When I say shut down, I mean it was even hard for us to catch a bait out of our own bait well. We fished for the next few hours without even a tree limb caught!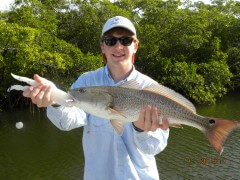 We saw multiple fish but their lips were tighter that my Uncles clamp on his wallet! Finally we started getting some light bites and a few fish (thanks to the great fishermen on the boat). Slowly the bite improved and we started catching multiple Spotted Sea Trout with a mixed bag of Ladyfish.
Any day you see a dad and his sons together doing anything is a great day and especially fishing. They were all gentlemen, good fishermen, and fun to have on the boat. Safe travels and Go Alabama (Roll Tide)!
Get out on the water, take a kid fishing and always remember that "it's great being us"!
Capt. Blake <*(((><
Captain Blake Matherly is a full time Spin and Fly Fishing guide. Captain Blake holds a United States Coast Guard 50 Ton Master Captain's License. Your Captain is fully insured and supplies a Florida Fishing License for all clients. He is a member of numerous Pro Guide programs including, Simms, Sage, Temple Fork, DOA Fishing Lures, Hatch Fly Reels, Power Pole, Penn, Calusa Cast Nets, Patagonia, and Columbia.