Stalking and finding fish in the Back Country around Fort Myers and Sanibel is like hunting for Quail back in the fields of North Carolina where I grew up. You keep looking till you find what you came for. That's what Ron and his brother in law encountered while fishing the Flat's around Sanibel and Captiva Island in Pine Island Sound.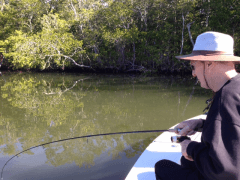 We start like always, fishing the tide. If it's low, we fish pot holes or deeper cuts. If it's high we fish the mangroves. We found some fish in a creek near Sanibel. First we found the Snapper. Then we came upon some smaller but nice size Black Drum. They kept coming, one after another. At times we had double hook ups. Seeing the rods bent almost doubled is the greatest site a fishing guide has ever seen. Hearing the reel scream like a sewing machine on steroids is the greatest sound. Combine both and you have a "happy, happy" Captain!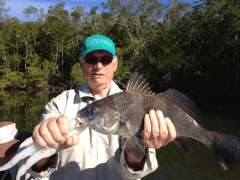 After a number of fish in the boat and time running out, we together decided we'd try to find some more, but different fish to bother and play with for the rest of the trip. We found some trout (a few very nice ones) drifting the grass flats. After playing a while with those guys, we moved to the trouble makers of the day. Yes, the Red's and Snook were there but boy did they have a bad case of "loose lips, sinks ships". They just would not partake in our fun and enjoyment.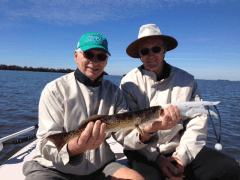 The day ended, but we all enjoyed a beautiful day on the water. Ron and Rick were good fishermen and great guys. I had a great day with both and they both were gentlemen.
Get out on the water, take a kid fishing and always remember that "it's great being us"!
Capt Blake <*(((><
Captain Blake Matherly is a full time Spin and Fly Fishing guide. Captain Blake holds a United States Coast Guard 50 Ton Master Captain's License. Your Captain is fully insured and supplies a Florida Fishing License for all clients. He is a member of numerous Pro Guide programs including, Simms, Sage, Temple Fork, DOA Fishing Lures, Hatch Fly Reels, Power Pole, Penn, Calusa Cast Nets, Patagonia, and Columbia.