I love the back country fishing in Florida. It's especially great on the Southwest Coast around the Fort Myers and Sanibel area. We have so many different ways to fish, and a lot of different species to catch. Recreational fishermen usually only work on 1 or 2 types of fishing but being a Charter Captain I'm able to fish a lot more which means I get to fish pretty much every situation and that's pretty cool.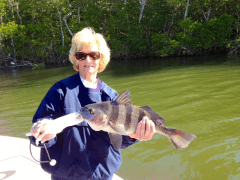 One of my favorite days on the water is when I have the ladies hire me for the day. Ellen Christian is a regular customer of mine. She loves to fish as much or more than any man I've taken out. This day she was taking out her Granddaughter from Ashland Kentucky, Alison. Alison graduated from Virginia Tech (go Hokie's) and was getting prepared for a new job, so fishing was what the Grandmother ordered.
The water temps were down, winds were up but the sun was shining. We started out with some small Mangrove Snapper, then Sheepshead and followed by some nice Black Drum. Alison was picking them off one after another. The fishing was so good we just about spent our total time in this one spot but finally put the rods down to try another spot before going in.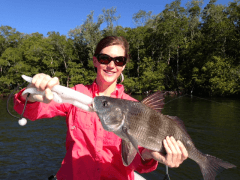 The next spot produced a few but different fish. We were able to get some Spotted Sea Trout and Flounder. It was another great day on the water with Ellen and was especially great getting to know her Granddaughter Alison. Enjoy your new job and come back for a vacation soon!
Get out on the water, take a kid fishing and always remember that "it's great being us"!
Capt Blake <*(((><
Captain Blake Matherly is a full time Spin and Fly Fishing guide. Captain Blake holds a United States Coast Guard 50 Ton Master Captain's License. Your Captain is fully insured and supplies a Florida Fishing License for all clients. He is a member of numerous Pro Guide programs including, Simms, Sage, Temple Fork, DOA Fishing Lures, Hatch Fly Reels, Power Pole, Penn, Calusa Cast Nets, Patagonia, and Columbia.