Flats fishing the back country waters of Pine Island Sound near the Island of Sanibel just off Fort Myers Florida, is a great place to land a number of species. It's also a great place to hunt for a certain species to add to your bucket list. It could be the Spotted Sea Trout, maybe the Snook or Tarpon.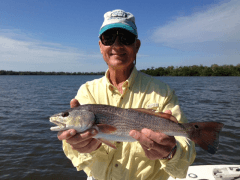 As for Author Ben Shelfer, his quest was for the elusive Red Fish. We've fished a number of times stalking the Red Fish from the tailing Reds on the grass flats, to the Red Fish in the mangroves. It seems that each time we're looking for Reds, we find and catch all the other species but not the Red Fish. This day we were around Sanibel Island working the grass flats and mangrove islands.
While out fishing, we decided to try a mangrove shoreline for whatever (Ben had finally come to the conclusion that Red Fish was the water version of the Southern Snipe). Bam! Fish on! The fight was on and even though I thought the fish was fighting like a Red Fish, my lips were tighter than a oyster in Alaska in the winter time, till the fish was in the boat. It was, finally, Mr. Red Fish. The only problem was that fish was caught by, yes you guessed it, Me! Okay, we've located some Red's, so Ben cast his DOA Cal lure towards the mangroves and Bam, Fish On!
We caught a number of Red Fish before the bite calmed down and off we were, stalking and hunting the Snook (another Snipe?). To be continued.
Get out on the water, take a kid fishing and always remember that "it's great being us"!
Capt Blake <*(((><
Captain Blake Matherly is a full time Spin and Fly Fishing guide. Captain Blake holds a United States Coast Guard 50 Ton Master Captain's License. Your Captain is fully insured and supplies a Florida Fishing License for all clients. He is a member of numerous Pro Guide programs including, Simms, Sage, Temple Fork, DOA Fishing Lures, Hatch Fly Reels, Power Pole, Penn, Calusa Cast Nets, Patagonia, and Columbia.