Met my client, Lorn Randall from California early at the dock on a beautiful August morning to fish the back country of Pine Island Sound and the Islands of Sanibel and Captiva. Lorn requested to go and see the process of catching bait before the fishing on the flats. After catching bait and seeing a beautiful sunrise the hunt began with our first stop at a mangrove island. Our first fish was a beautiful Redfish. Our second fish was the elusive Snook. Now I'm thinking we're almost there to the big "Sanibel Slam". Just one Trout and we have it. Naturally, I'm ready to get out of here and go to some grass flats to see if we can make it happen. Summertime can be a little tricky for Trout as the water is warmer and you really need to get them early or you may be out of luck. Our day was progressing (getting late) so I'm a little concerned about our possibilities.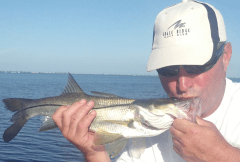 We head over to a nice Pine Island Sound grass flat and the hunt begins. My buddy, Lorn, proves to be a worthy caster and we commence to bring in one catfish after another. We miss a couple of small Trout and then it finally happens. A nice Pine Island Sound Spotted Sea Trout. Bingo, a Sanibel Slam.
We both decided to try some mangrove fishing on the Sanibel, Captiva side of the sound so we're off to another adventure. In stealth mode, we creep up to an Island off Sanibel and start casting towards and in the mangroves. A couple of nice snook and a beautiful redfish and my line goes tight and a huge snook has his way with my gear. I never had a chance to even get a look before he was in the next Zip Code. We re-bait and then it happens. Lorn hooks the granddaddy snook of the day. He jumps and I know it's going to be a tough fight. This is a 35 inch plus Snook! I lift up the Power Pole and start motoring away from the mangrove to help Lorn with the battle. Minutes later, which seemed longer, we have the monster to the boat only to have him break the leader while we're trying to have a conversation with him. Wow, what a day!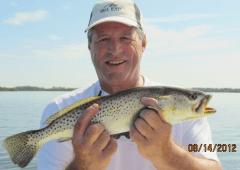 I bid farewell to my new friend and we both agreed that it is "great being us", especially today!
Tight lines,
Capt. Blake
Captain Blake Matherly is a full time Spin and Fly Fishing guide. Captain Blake holds a United States Coast Guard 50 Ton Master License. Your Captain is fully insured and supplies a Florida Fishing License for all clients. He is a member of numerous Pro Guide programs including, G Loomis, Temple Fork, DOA Fishing Lures, Bauer Fly Reels, Power Pole, Calusa Cast Nets, Patagonia, and Columbia.