Whether you're Fly Fishing or Spin Fishing, one of my favorite fish to catch in the Sanibel, Fort Myers area of Florida is the Jack Crevalle. They are one of the most fierce fighting fish pound for pound that you can find.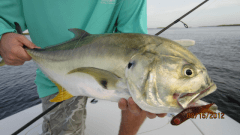 Most fishermen don't target the Jack because they are not the best for the table but I can tell you they are one of the most fun fish to catch. Target passes, inlets, creeks with great tidal flow for this species. They are also found roaming the open flats looking for bait fish. I love to chum them up with some pilchards and throw any fly and let the fun begin.
Get out on the water, fish a little and always remember that "it's great being us"!
Tight Lines!
Capt. Blake
Captain Blake Matherly is a full time Spin and Fly Fishing guide. Captain Blake holds a United States Coast Guard 50 Ton Master Captain's License. Your Captain is fully insured and supplies a Florida Fishing License for all clients. He is a member of numerous Pro Guide programs including, Simms, Sage, Temple Fork, DOA Fishing Lures, Hatch Fly Reels, Power Pole, Penn, Calusa Cast Nets, Patagonia, and Columbia.