The flats fishing this past week on the Southwest Coast of Florida around Sanibel and Fort Myers has been like the roller coaster ride at Disney World. One day chicken, next day feathers, or in some cases like one charter this past week, Seagull feathers.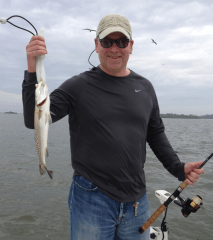 My new friends Jeff Oravec aka. Seagull man, Bass man from Atlanta and his brother in law Mark Smith from Cleveland experienced the roller coaster ride with yours truly.
The day started out cold, overcast and  thoughts of a shutout were hard to keep from my mind. One spot nothing, two spots nada, three spots zilch. How many fishing spots do we have to go to till we can find fish. My answer, as many as it takes! Period!
Finally we find some fish but the bite is slow and hard to get the fish hooked that were biting. Finally, spotted sea trout bite turned on. First Jeff, then Mark and the tough day started to look like we made the right decision. Suddenly the toughest fight so far started but, yes, it was not the underwater version, but the giant, sought after by few, Seagull. That's right Jeff, my man, had hooked a Kamikaze Seagull looking for a free handout for breakfast. Thank goodness these guys are "catch and release" kind of fishermen so we gently reeled him in and softly released him back to the sky from which he belongs. After a few more trout we decided to try another spot.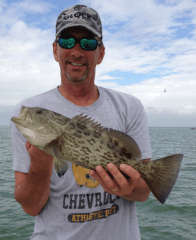 The next spot started out very tough just like the others but we started getting some nice bites but could not get the fish out of the structure. After probably 10 break offs, Mark finally coaxed the first Grouper to the boat. Following the lesson learned, Jeff started reeling multiple fish to the boat and the day was without question the right thing to do. Both anglers caught multiple fish and really were great fishermen to have on the boat.
Safe travels to my new friends!
Get out on the water, take a kid fishing and always remember that "it's great being us"!
Capt. Blake <*(((><
Captain Blake Matherly is a full time Spin and Fly Fishing guide. Captain Blake holds a United States Coast Guard 50 Ton Master Captain's License. Your Captain is fully insured and supplies a Florida Fishing License for all clients. He is a member of numerous Pro Guide programs including, Simms, Sage, Temple Fork, DOA Fishing Lures, Hatch Fly Reels, Power Pole, Penn, Calusa Cast Nets, Patagonia, and Columbia.